Get Started
Need Help, But Prefer
To Talk Later?
"*" indicates required fields
Get Started
Need Help, But Prefer
To Talk Later?
"*" indicates required fields Modern changed my life. I came in completely broken, now I can smile and laugh again. I am leaving here a new woman, with the tools and skills I need to resist my addiction. Is opioid use hurting your family, work, finances or relationships?
Whether you started using opioids with a doctor's prescription, or recreationally for non-medical reasons, once you're dependent on opioids, it's extremely difficult to stop using them – But we can help!
Opioid Rehab Center
At Modern Recovery, treatment for opioid addiction begins with our clinical team of addiction specialists. They will develop a comprehensive rehabilitation plan to address your specific recovery needs and challenges. Several factors will influence the treatment plan that we'll develop for you:
How long you've been using opioids, heroin or other opiate drugs
The amount and frequency of your substance use
Whether you use alcohol or other drugs in addition to opioids
Your overall physical and mental health
Your family relationships and support network
Verify Insurance
The treatment process
Once we stop taking opioids, and our body tries to readjust to functioning without them, we experience a number of unpleasant physical and emotional side effects referred to as withdrawal symptoms. These can include:
Muscle and bone pain
Sleep problems
Diarrhea and vomiting
Cold flashes
Uncontrollable leg movements
Severe cravings
Need more information about detox options?
We've been awarded The Joint Commission's Gold Seal of Approval, a recognition for excellence in patient care and safety in the health care industry.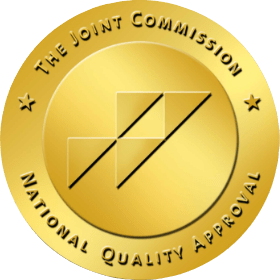 How we treat opioid addiction
We take a holistic approach to rehabilitation, helping you to strengthen your mind, body, and spirit with a well-rounded balance of evidence-based treatments.
Address underlying psychological conditions and past traumas.
Learn how to identify and avoid high-risk situations, triggers, and relapses.
Create new patterns and habits that will form your new healthy lifestyle.
NOTE: The optimal number of treatment days per week and hours per day required will be determined by our clinicians based on your unique needs.
Outpatient services we offer include:
1-On-1 & Group Counseling
Individual & Family Therapy
Dual Diagnosis Treatment
Nutritional Counseling
Cognitive Behavioral Therapy
Case Management
Medication Management

(855) 635-0050
Our outpatient program combined with Residential Housing may be perfect for you. Contact our admissions team for more information!
We can help you get sober