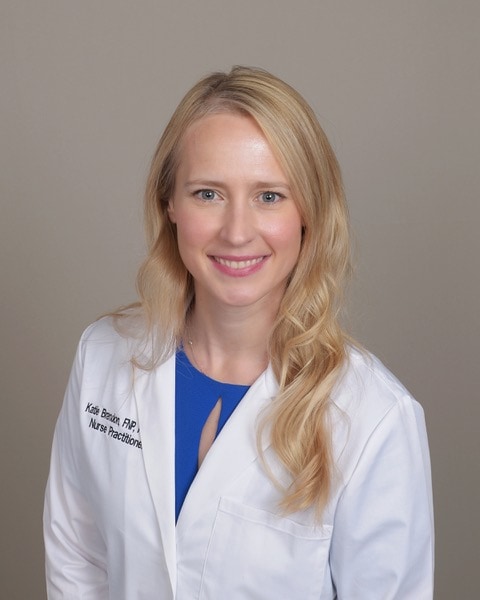 REFRESHINGLY HUMAN
Katie Brandon
Staff Bio
FNP, PMHNP - Nurse Practitioner
Katie Brandon is an experienced nurse practitioner with triple certification in Family Practice, Psychiatry/Mental Health, and Obesity Medicine. After earning a Bachelor of Business Administration at Southern Methodist University in Dallas, TX, Katie went on to attend the University of Texas Health Science Center in Houston where she completed a Bachelor of Science in Nursing. She then pursued a Master and Post-Master of Science in Nursing at the University of Texas in Arlington. Katie's healthcare experience as a registered nurse includes four years in the cardiovascular intensive care unit and two years in the emergency department at a large hospital in Fort Worth, TX.
As a nurse practitioner, Katie has five years of experience in treating primary psychiatric illness, addiction, dual-diagnosis, and obesity at both the inpatient and outpatient levels. She is board certified in both Family Practice and Mental Health/Psychiatry through the American Academy of Nurse Practitioners and the American Nurses Credentialing Center. She is also certified by the Obesity Medicine Association. Katie is distinguished as a Graduate Nursing Clinical Education Specialist for nurse practitioner students. She is passionate about working with under-treated, stigmatized, and misunderstood chronic health conditions. Katie is dedicated to pursuing a holistic approach to mental health and weight loss with a focus on commitment and sustainability. She brings compassion and authenticity to the field of obesity medicine and mental health.
Katie is a mother to three young children and wife to a medical student. She is a certified Les Mills Bodypump instructor and enjoys teaching classes at a local gym.
Katie treats patients 13 years and older. She provides the option for in-person appointments in Lubbock, TX on Fridays. She is licensed to practice in Texas, Arizona, and New Mexico and provides telemedicine across all three states.